Direct Maintenance's representatives – Managing Director Frank Daams, Operations Director Erik Verwijmeren and Sales Executive Mandeep Rana – attended the 119th International Airlines Technical Pool (IATP) conference, which was held in Athens, Greece from March 9th to March 13th.
The company's representatives had a chance to meet existing and potential customers at the conference and get updates about the new EASA regulations and SGHA's amendments. The topics discussed at the event were related to operational performance, contractual agreements, possible future needs of customers, customer issues, general market needs and trends, etc.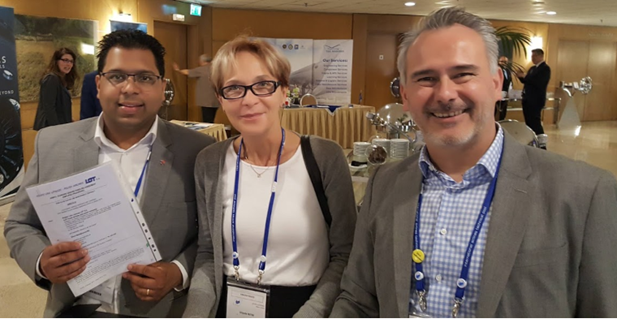 In addition to this, Direct Maintenance signed new contracts with some of our most valued customers – all of them for line maintenance services across the company's network in Europe.
"Maybe even more important is the fact that we had a chance to meet with our customers, have good discussions with them, and have them know that we have listened to them – this gives an enormous increase in trust. Now it is up to us to filter all the information that we gathered so that we can support our customers at existing and new locations, and subsequently grow our business," commented Direct Maintenance's Sales Executive Mandeep Rana. "The IATP has given us, once again, loads of leads which help us to understand the customer needs and the market – with this we can expand and grow our line maintenance business.
Direct Maintenance had over 50 formal bilateral meetings with different airlines and many more informal meetings at the IATP conference.
Direct Maintenance has been an IATP associated member for a long time. The IATP conferences are member-only events that bring together technical departments from Airlines, technical supplier companies and Aircraft manufactures to speak about the market, its trends, needs etc. During the IATP, the participants have a chance to have consolidated meetings, pool meetings, training classes and bilateral meetings.