Delighted to extend our line maintenance support to our valued business partner, TAP Portugal.
Direct Maintenance welcomes TAP Portugal at Amsterdam Schiphol Airport (AMS). This extension of our partnership is a result of the excellent line maintenance support that has been provided through our line maintenance station at Berlin-Tegel Airport (TXL).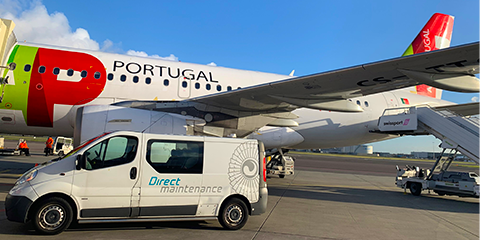 Portuguese national flag carrier TAP Portugal and Direct Maintenance entered into a line maintenance partnership on 1 February 2019 at Amsterdam Schiphol Airport. We are delighted to extend our partnership together. In 2018, we started to partner with TAP Portugal through our line station in Berlin-Tegel (TXL) and due to the excellent dedicated service provided by our qualified and experienced team, we are very pleased to extend this partnership even further.
Frank Daams, Managing Director, Direct Maintenance comments: ''We are genuinely delighted to welcome an extension of our line maintenance support to TAP Portugal. The Direct Maintenance team at our line maintenance station in AMS are doing an excellent job providing daily night-stop checks for the TAP Portugal A320, A320 NEO and AC type operating into AMS. With TAP Portugal operating four daily flights into Schiphol, we see this as a great opportunity to strengthen our partnership with TAP Portugal even further throughout the course of 2019."
For any line maintenance related enquiries, please contact us: Sales-Maintenance@directaviation.aero